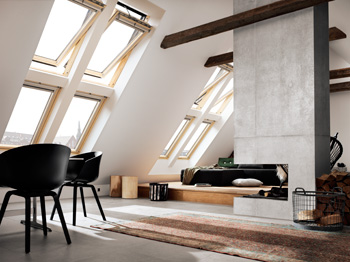 Installers of top quality roof windows in Buckinghamshire
We know that people are always looking for ways in which to bring more light into their properties. Simply Roof Windows can supply and install a full range of Velux roof windows, skylights, rooflights and sun tunnels, so you can make the most out of any room in your property. Working for domestic, commercial and industrial customers in High Wycombe and throughout Buckinghamshire and the South East, our team are dedicated to offering you affordable prices, outstanding products and quality workmanship. We are a Velux-approved company and all our installers have undergone meticulous training so you know that your installation will be of the highest standards.
We offer a huge range of services including Velux windows installations, Velux windows servicing and maintenance, Velux glass replacement, Velux Integra electric windows systems, skylights and flat roof windows. We also install sun tunnels, which are a cost-effective solution for providing natural daylight to dimly lit areas in a property. They create a warm ambience and will save electricity.
We install roof windows into:
Unconverted loft rooms
Converted loft spaces
Barns and outbuildings
Garden offices
Bathrooms
Bedrooms
Kitchens
Stairwells
Extensions
Most of our roof windows installations do not require scaffolding saving between £700 and £1500 and we can normally install a window within seven to ten working days.
Call now on 020 8813 4414 for free advice or a no-obligation estimate.
Making the most of your Buckinghamshire property with Velux windows
Velux has been leading the market in design and manufacture of high quality windows for over 70 years. Their windows are ideal for making the most from unconverted loft space or bringing extra light into properties. Adding roof windows to your home or office can really improve the quality of your living or working space.
Our qualified team have extensive experience of installing and replacing roof windows in modern homes, period properties and offices throughout Buckinghamshire.
We supply and install:
Centre-pivot windows: These offer versatility, value for money and affordability. One pull of the control bar allows for background ventilation, while a further pull opens the window. These windows are convenient and low installation allows for flexibility and better views.
Top-hung windows: These roof windows let in more natural light and fresh air, allowing you to enjoy panoramic views. They also increase the energy efficiency of your home and natural ventilation.
Integra electric roof windows: This innovative system allows you to control the windows and any blinds or shutters anywhere in your house, with one touch of the control pad. You can create a programme based on your needs or use a predefined one for ease. These windows are available in both mains and solar-powered versions.
Sun tunnels: These are designed to bring natural light into corridors, stairwells and bathrooms where installation of a Velux roof window is not possible.
Blinds: We can fit your roof windows with a range of Velux blinds.
Call our roof windows, skylights and sun tunnels specialists in Buckinghamshire to find out more!
For more details, please call us on 020 8813 4414.
Or you can email us at info@simplyroofwindows.co.uk or fill in an online contact form and we will get back to you.
Related Posts

velux company Buckinghamshire, light shaft Buckinghamshire & velux windows Buckinghamshire