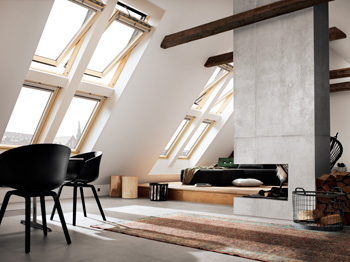 Roof window and skylight specialists in Bedfordshire
Working in Luton and throughout Bedfordshire and the wider areas of the South East, Simply Roof Windows specialise in roof window installation, replacement, servicing and maintenance. Whether you have a dark and gloomy stairwell or a stuffy and poorly-lit kitchen, we can supply and fit roof windows, skylights and sun tunnels into any area of a property. Having a quality roof window fitted will give your room a new lease of life because by adding more light, not only will you create the feeling of more space but your home will benefit from better ventilation.
All our team are Velux trained and we install only the best roof windows available on the market. As well as installing new roof windows and skylights, we can replace a leaky window or re-glaze an existing one. We have 10 years' expertise in this area and all our jobs are always carried out on time, on budget and with the minimum of fuss. We complete all our installations from the inside, saving you between £700 and £1500 as there is no need for expensive scaffolding.
Our services include:
The installation of new roof windows and loft windows into unconverted and converted loft rooms
Roof window replacements and upgrades
Re-glazing of windows with broken glass
Electric windows
Installation of sun tunnels
Blind-fitting service
Serving of old or dirty windows – Velux recommend that their windows are serviced every five years
Flat roof services
Bespoke skylights
We always aim to fit standard Velux roof windows within seven to ten working days from the order being confirmed. Our experienced installers will be able to carry out an installation with minimum disruption and in some cases, will complete the job in just one day.
For more information, contact us on 020 8813 4414.
Our impressive range of roof windows in Bedfordshire
Roof windows make a valuable addition to any home or commercial property. Whether you need existing roof windows or skylights replaced or you would like to invest in new ones, we can help.
Our roof windows boast the following benefits:
Excellent energy efficiency properties, with airtight seals and double-glazed panes
They can help you create a more useable loft space, thus increasing the value of your property
Our windows will save you money on your energy bills
They allow fresh and filtered air into your home at all times if you wish
Roof windows offer a useful escape route in the case of fire
They have toughened glass for enhanced security
Sun tunnels in Bedfordshire
Bring light into any room with a sun tunnel. These products are designed to bring natural light into every part of your property, even those areas that cannot be fitted with roof windows or vertical windows. Dark interior rooms such as stairwells, corridors, bathrooms and dressing rooms are ideal spaces for sun tunnels.
The light tunnel channels natural daylight from the light transmitting tube from a dome mounted on the roof. Sun tunnels will enhance you living or working space and save electricity.
Call our roof window and sun tunnel experts in Bedfordshire for a free, no-obligation quote today
For more info or to request a quote, please call us 020 8813 4414, email info@simplyroofwindows.co.uk or fill in an online contact form.
Related Posts

velux reglazing Bedfordshire, velux fitter Bedfordshire & loft boarding Bedfordshire