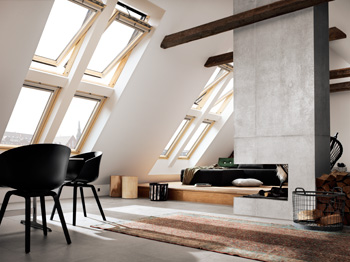 Bring more light and air into your Hertfordshire home with top quality roof windows
Allow us to provide the best roof windows solutions for your St Albans or Hertfordshire property. We bring over 10 years' experience in the supply, installation and servicing of all types of roof windows, skylights and sun tunnels to domestic, commercial and industrial customers in Hertfordshire and throughout the South East. We also have worked in the building industry for three decades and our installations will save you between ?700 and ?1500 because we do not use cumbersome scaffolding.
Roof windows and skylights are the answer when you need more light in your home. We need daylight in our homes to regulate our body clocks and make us feel more energised and happier. Roof windows let in twice as much light as vertical windows and can have a huge impact on your living or working environment. They will also save you money on your fuel bills.
We are a family business and offer a personal approach. We are happy to offer free quotes, either over the phone or in person, with no obligation. We know that every window is unique and we can offer advice on the best solution for your requirements. Our small team of experienced tradesmen will always ensure the highest quality of work and have been trained at the prestigious Velux academy, ensuring all your Velux products fit seamlessly.
Our services include:
Roof window installation
Roof window servicing and repairs
Sun tunnel installation
Roof window replacement
Loft conversions and loft windows
Installations backed by ten-year guarantees for your peace of mind
Velux blinds and Integra electric Velux windows
Flat roof solutions
After 10 years converting loft spaces, in 2005, we set up the company after we recognised the demand for roof windows in rooms other than the loft. As well as installing roof windows into converted and unconverted loft spaces, we fit them in bathrooms, bedrooms, kitchens, stairwells, offices, garden offices, barns, outbuildings and other spaces.
Installing a roof window isn't as disruptive as you may think and most installations do not require scaffolding, so call us now to find out more on 020 8813 4414.
Reliable and trusted installers of roof windows in Hertfordshire
We have specialised experience in installations to all types of roofs, including metal, tile and slate and can install roof windows into any type of property, from older properties in conservation areas, right through to modern, contemporary homes and office blocks. We also do remedial work and service and re-glaze roof windows.
Here are some of the reasons our customers have chosen us for their roof window needs:
Your roof windows can be installed in as little as 7 to 10 days from the time of order.
Our team are qualified professionals with many years of experience.
We keep our prices as low as possible, while also providing the best products and excellent workmanship.
All our no-obligation quotes include supply, delivery and fitting of the window and we will always clean up after ourselves.
Most of our jobs are completed in a single day.
To contact our roof windows, skylights, loft windows and sun tunnels installation team in Hertfordshire, contact us
If you would like to know more or would like to request a quote, ring 020 8813 4414, email us at info@simplyroofwindows.co.uk or fill in an online contact form.
Related Posts
custom boxes
velux windows Hertfordshire, velux servicing North London & loft boarding Hertfordshire